About us
Topics-in-Focus
The speed of scientific and technological changes and accomplishments of the medical research field, place an increasing demand on clinicians to adapt to new techniques and therapies. Also, socio-economic developments have a considerable impact on health care, as mass migration and an aging population incrementally change the incidence of diseases in Europe, including hemoglobinopathies. This creates an additional need for education to ensure the appropriate diagnosis and treatment.
Following these developments, EHA launched the Topics-in-Focus Program, one dedicated to hemoglobinopathies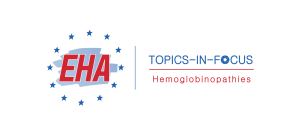 Sickle Cell Net
In hemoglobinopathies, it is sickle cell disease that takes center stage. Sickle Cell Net provides an overview of all activities EHA is developing in this field in a way that is easy to navigate and accessible to anyone. We also provide the latest news on sickle cell disease and hope to inspire and serve everyone interested in the field.